Bring Your Marble Floor Back To Life With Our Expert Marble Grinding & Polishing In Dubai
Marble Floors Restoration & Grinding And Polishing Services In UAE
Royal Marble Polishing aims to provide cutting-edge flooring solutions for our residential and commercial clients as a reputable flooring specialist in UAE. The floor of a house takes the brunt of our everyday activities and is usually the first surface to reflect wear and tear. Since our company's establishment, our only goal has been to help clients sustain the life shell of their beautiful floor, for which we understand the importance of a beautiful and charming living and office space. We will provide you with top-class services of Marble Grinding & Polishing in Dubai, UAE.
The Industry's Latest and Most Advanced Technology
Since its inception, Royal Marble Polishing has watched and ridden on phases of technological change. We ensure the usage of the industry's latest and most advanced technology from Europe to provide clients with a hassle-free flooring maintenance process.
Skillful and Experienced Technician
No floor is born equal. Our expert technicians are trained to inspect and assess your flooring needs and make professional recommendations accordingly. No fixed size fits all solutions. Every case is unique & will receive special care & attention from us. Our grinding and polishing marble flooring services will help remove scratches stains & return marble tiles' natural luster and shine.
Marble is one of the most standard used natural stone materials in home flooring, making marble floors as scratch-free and stain-free as possible.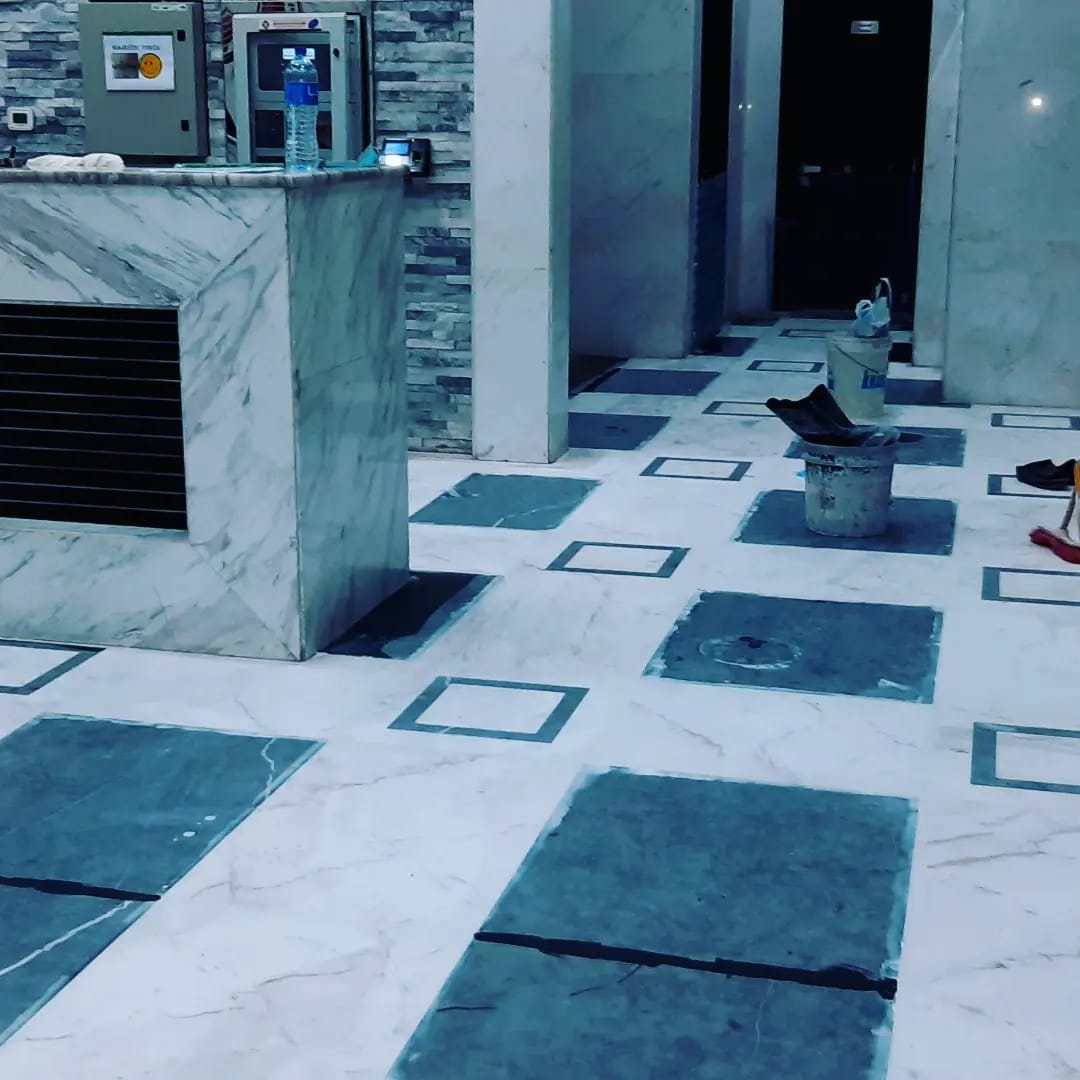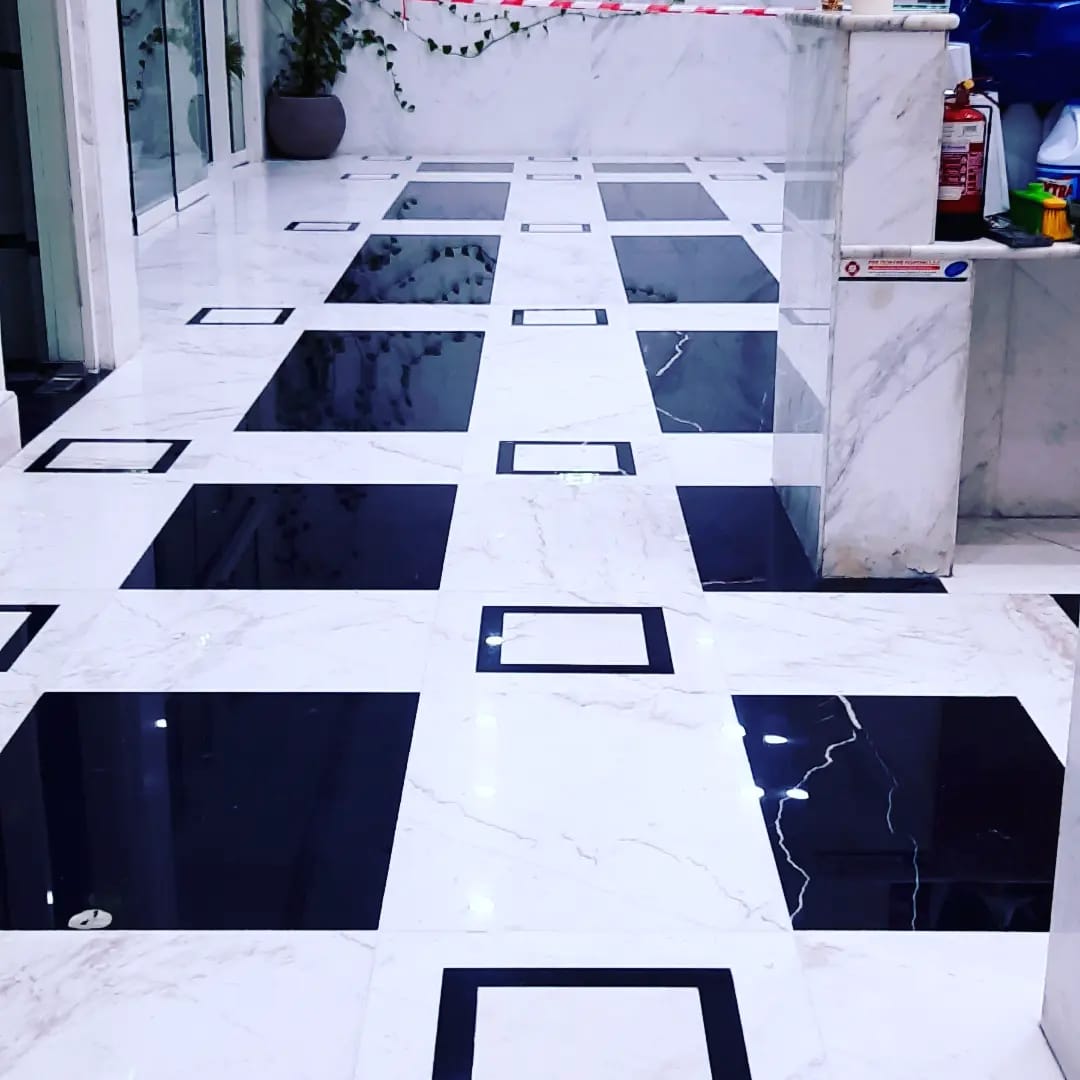 Marble resurfacing is a quick and dust-free process with our cutting-edge technology. Whether it's your marble floor in the living room, island top in your kitchen, or vanity top in your bathroom, our skilled stone specialists will be able to help renew its look.
What is Crystallization in UAE?
The marble floor Crystallization in UAE, also known as verification, is a floor polishing method that creates a gloss. Other calcium-based floors, such as limestone & travertine, can be treated similarly. The crystallization technique has been around for a long time, and the technology has evolved to include the most up-to-date tools and chemicals.
Marble polishing and floor crystallization service aid in achieving the most extraordinary gloss possible, which is impossible to accomplish with regular cleaning or polishing. Marble, limestone, and travertine flooring give a very high gloss. Crystallization preserves the color and luster of the floor. Professionals do this process on the inside levels of commercial and residential structures and public buildings like malls and hotels.
Compared to other floor polishing processes, floor crystallization always produces the best results. Crystallization also lowers maintenance expenses because dust and filth cannot stick to a crystalline floor's surface. It also hardens floor materials like marble, limestone, and travertine, making them more scuffed and stain-resistant.
Royal Marble Polishing, one of the major service providers, provides consumers in UAE with floor crystallization, marble grinding, and marble polishing services. It's most popular on marble floors and is highly suited for high-traffic areas. We have a fantastic reputation among other marble polishing firms for the excellent quality of service that we provide to our customers.
If you are looking for elite Technical Services in UAE, go ahead with us. You can seek expert advice from our experienced professionals. Call us on +971508837071 or email us at teamroyalmarblepolishing@gmail.com.
Looking For Marble Grinding & Polishing In Dubai UAE? Royal Marble Polishing Can Help!
Due to the fragile nature of marble and the surface's sensitivity to stains and damage, maintaining marble floors is more challenging than maintaining other types of flooring. If you do not provide the necessary maintenance for your flooring, it may experience irreparable damage. Don't worry about it; the professionals at Royal Marble Polishing will restore your marble flooring to its original condition as quickly as possible while maintaining the highest level of quality in their work. You have arrived at the right location if you are seeking a trustworthy business in the United Arab Emirates that specializes in Marble Grinding & Polishing In Dubai UAE.
We can help you save money while preserving the beauty of your marble flooring and preventing further deterioration in the future. We eliminate stubborn stains, like the ones left behind by spilled juice or tea, that you are not able to get rid of on your own. The shine of your marble floor can be brought back to its original state thanks to the all-encompassing scope of the restoration service that we provide. Not just this, get the best technical services in UAE from us!
Are you concerned about the state of your marble flooring, which does not appear to gleam as brilliantly as it did when it was first installed? Do you need Marble Grinding & Polishing In Dubai UAE? If yes, then permit the highly trained professionals at our marble cleaning business to handle all of your marble polishing needs. They will restore the one-of-a-kind characteristics of your marble slabs as well as flooring by employing techniques of the best possible standard.
At Royal Marble Polishing, we take the initiative to ensure that our professionals polish the marble surfaces with diamond wipes, which also helps to ensure that they are leveled consistently. It is safe to say that Marble Grinding & Polishing In Dubai UAE is the best at RMP. To accomplish this, we will use pads of a more gentle grade to bring back the sheen that had previously been removed from your marbles. We promise that every single one of our services, including floor refinishing, marble polishing, and general cleaning, will be carried out professionally.
Royal Marble Polishing is a company that operates out of Dubai, United Arab Emirates, that specializes in providing solutions for the polishing of hardwood surfaces. One of the multiple explanations why floorboards are so appealing is because they give a room more personality and ambiance. Do you need Crystallization in UAE? We have that as well! This is just one of the numerous benefits that hardwood floors offer. All of this, however, is made pointless the moment the sheen and look of your oak floor are compromised. Contact our firm if you need crystallization in UAE, and you'll see the improvement for yourself after speaking with a member of our staff.
If you have wooden floors that seem like they should be polished, it is an excellent idea to hire a specialist team that is informed about how to maintain them. This will ensure that your floors remain in pristine condition. By doing this, you can ensure that the condition of your floors is maintained. When allowed to do so, many of Team Royal Marble Polishing's clients have placed their trust in the company. We can give your old wood floors the appearance of brand new flooring by providing them more TLC, cleaning them, and taking care of them. We are sure that our technical services in UAE are going to leave you stunned. Drop us a call right this minute!